By know you must have heard that video is future of marketing. Actually that future is fast forwarded and Video content has become present of digital marketing / content marketing.
You must be knowing how important it is to create a video, and how videos help you in communicating better with your audience/ users. Video marketing is ruling digital marketing currently. Small videos help B2B and B2C startups go viral as videos work well in telling an emotional/ funny story with a strong message.
Do you know that video marketing can help you in SEO? You rank high on Google if your video is rich in keywords and your title is SEO-optimized. Videos get an image snippet which increase the chances of someone clicking on it. Videos can be easily embedded in a website and shared on social media. Just a 1 to 2-minute video demo can help your customers easily understand your product.
You can also ask your customers for video testimonials to build greater trust and authority for future customers. You can prepare video tutorials to get customers onboard. You can achieve fabulous marketing results when a video is used with the power of social media. A single viral video can attract thousands of customers to your website.
Well its easy for big corporate to hire an agency or a big production house to create a viral video campaign, it is difficult for a startup to match that budget. You might have a great idea content-wise, but no expertise in making compelling videos. You also have a hard time in finding a suitable video maker who is excellent and affordable. Here is all that you have to know to crack this problem in India.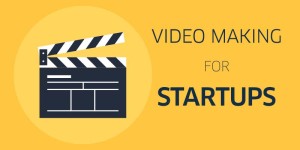 Know the video making process
The startup provides a detailed requirement to the video maker/ production house/ creative agency.

The service provider then creates an initial draft of concept/ script (Concept is the king in the entire video unless any 'Khan' is acting in it)

Once the script is finalised, both the parties sign a service agreement

The service provider takes 50% advance and starts the video-making procedure

The service provider submits the first version of the video

After incorporating all the feedback, the service provider completes and delivers the final video
Questions you should think through before approaching any professional video maker
Do you have a script or reference video in mind?

Do you want a live shoot video, or an animation video, or a mix of both?

Duration of the video

If it is a live shoot video, do you need us to provide models and voice over artists, or will you arrange it?

What is the maximum budget you have? (A maximum budget gives an idea what quality can be delivered)
Things that contribute to cost
A video has many elements which decide the quality of a video, hence the differences in pricing. A video on the same concept can be made with Rs. 20,000 and also with Rs. 2 lakhs+. Video maker's proficiency, actors capabilities, Camera and other equipments, lights, sound, camera, and voice-over artists decide the quality of video hence the cost. To give you an idea, a standard 60-90 sec video with professional basic quality made by a fresher will cost a minimum of Rs. 20,000. Here are the examples to show video qualities of different pricing.
Basic quality – Rs.20000 to 40000/-
Live Shoot
Commercial video made through stagephod for client – CrazyTroll
Animation
Medium quality – Rs. 50,000 – 80,000/-
Live Shoot
Video made through stagephod for client – Flatchat
Animation
Tutorial animation video made through stagephod for client – MachineParty
High quality – Rs. 1 Lakh+
Live Shoot
TV commercial video made through Stagephod for client – My Smartprice
Animation
Sprint – Customer Application Forms Management System
Important things to Note
Concept is king – Main thing in a video is concept unless you have a 'Khan' acting in it. More than half of the work is done if you have a good concept/ script in hand. A good concept with average video/ production quality can also go viral
There is no set rule – Anything which is executed intuitively can go viral. Its not that animation is better than live shoot or vice versa. Similarly no set rule when it comes to models, camera, video makers etc.
Duration – This is a known fact that video should be as short as possible as that's the USP of a video – explain more in less
Maximum budget – It is very important to think of a budget as that will set the expectations in terms of quality and overall execution
How to select a video maker/ creative agency
Check out his/ their previous work and see if he/ she had made similar videos like you are planning to make.
You must compare a few videomakers' work in order to come to a conclusion.
How to find a video maker/ production house
There are several ways to reach out to video makers
Post your requirements on Quikr, Elance etc

Search video makers at niche marketplaces (like

Stagephod

)

Explore your network.

You can also post your requirements in Facebook groups & other social media
Posting your requirements in a marketplace has its advantages, as you get options to choose from, you can get a video done in your budget without compromising on quality. Marketplaces do initial screenings, and also give you tools to manage the project systematically. You can also be assured that you will get the quality promised as you get them keep a tab on videomakers.
So, what are you waiting for now? Think of an entertaining concept and leverage the power of video.
Acquire clients and generate revenue by creating a viral video. Post your video requirement here
(This article is authored by Nikhilesh, co-founder of StagePhod.com which is a market place to find a video maker.)
This article was originally published at http://yourstory.com/2015/07/video-making-startups/